Clutter is not to be confused with home decor. Home decor is not to be confused with clutter.
Home Decor Rule No. 3: Clutter is not Decor
Yes, I know I said there were no rules in home decor. This is not a RULE kind of rule. Think of these as life preservers being tossed toward you to keep you from drowning in a sea of helpful and oh-so-handy how-to books, articles, blogs, etc. And there's a lot of etc.
How Much Clutter Can You Actually See?
The answer is probably "Not much." If you've got children, the odds are pretty high that you've either (1) learned to tune out clutter in your own home or (2) you've got the kids safely located in a boarding school in Switzerland.
We become immune to our own clutter over time. (I use the term "we" loosely. You're not THAT bad. Right..?) We stop seeing clutter and become adept at finding our car keys in a sea of backpacks, sweaters, hoodies, orphaned mittens and lunch bags.
In order to get into some real home decor, we're going to have to start seeing clutter again. Until it's out of the way, we're just rearranging stuff, not designing living spaces we'll love to be in.
By the way, I define clutter as stuff that has a place where it should be but isn't – and junk as stuff that doesn't have a place where it should be, so it should be on its way to the donation bin. What's yours?
Clutter Homework
How many clutter items do you see in the picture at the top of this post?
Put your answer in a comment here by Thanksgiving Day, 11/22/2012 @ 11:59 AM (aka "nearly noon") for a chance to win a copy of internationally best-selling author Don Aslett's classic, "Clutter's Last Stand" (2nd edition).
I'll actually do the drawing that Saturday – 11/24 at noon Pacific time – after Black Friday shopping is done. So there will be a few hours you can sneak in an answer at the last minute – and make absolutely sure to include a valid email address so I can let you know if you won. If you miss it, don't despair. It's an easy and affordable book to buy (see below).  (Spam comments and blatantly silly answers like "3 gazillion" will be discarded before the drawing.)
Don't want to wait to win it? Click Here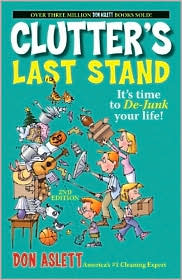 Clutter's Last Stand: It's Time to de-Junk Your Life!
Price: $9.95
Don Aslett, Paperback – REV,
Edition: 2, English-language edition
Pub by Adams Media Corporation